· Eligibility : To be eligible, candidates must satisfy the followings:
Be citizens of the partnering countries designated by the Ministry of Environment of the Republic of Korea
Be officially nominated by his/her government
Be government officials or employees of the public organizations or institutions in environment and environment-related departments (over three years of experience, only permanent employee)
Hold a Bachelor's degree officially recognized by the government as of the date of arrival to Korea
Have a good command of both spoken and written English
Not have participated in any of the Korean government's scholarship programs(Master's degree or higher) before
Have adequate health, both mentally and physically, to stay in a foreign country for an extended period of time
Meet the selection conditions for universities
Agree to return to his/her home country after completion of study under this program
· Number of Recipients : Approximately 20~30
· Subsidies : Full-ride scholarship with a monthly stipend is provided. Details of financial support by MGLEP include the following expenses:
Tuition fee
Accommodation (dormitory of academic institution)
Living allowance (including meals): KRW 999,000 per month
Travel expenses (Airfare): Round-trip economy class ticket
Miscellaneous travel expenses: KRW 200,000 upon arrival
Allowance for textbooks and materials: KRW 400,000 per year
Extracurricular activities, such as study and field trips during the program
A medical checkup
Insurance
· Academic Institutions :Designated universities in Korea
· Application Timeline
※ The schedule is subject to change depending on circumstances.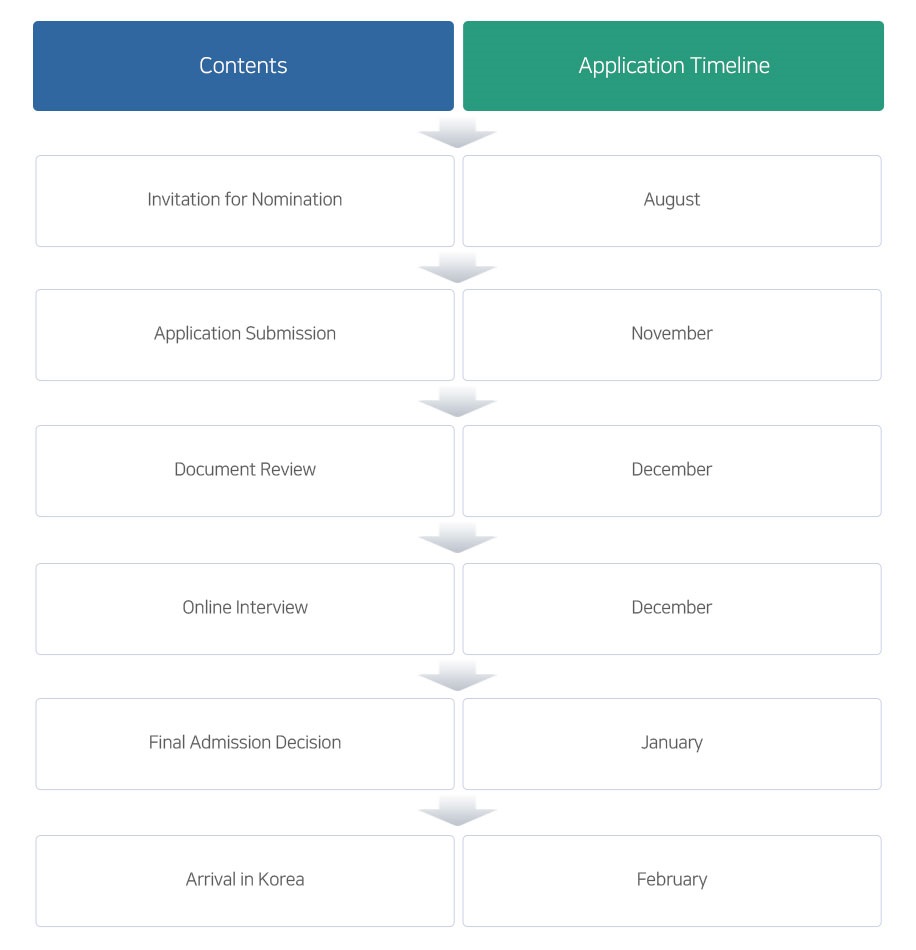 · Submission of Documents
The required documents should arrive at the KEITI office by both email and postal mail no later than the application deadline.
· English Score Report
The score report of English proficiency test is required to submit for all applicants. We encourage all applicants to submit the score report, but if you do not have a score, you can submit any proof of your English proficiency.
· All courses are conducted entirely in English.
Applicant interviews are mandatory. An online interview will be conducted for those applicants who have passed the 1st round (Evaluation of Application Documents). The interview will be conducted in English.
· No delay in admission
An offer of admission to the program is made only for the upcoming academic year. Acceptance of the offer is not deferred.
· Dormitory
Dormitory residence is mandatory for all MGLEP students. Students should stay in the dormitory provided by his/her academic institution.
· Not allowed to bring family members
As MGLEP is an intensive program which requires students of full commitment and concentrated endeavors for studying, participants are not allowed to bring any family members.